DAC Board¶
This document describes the design considerations and implementation details for the AMDC digital-to-analog converter (DAC) expansion board. A block diagram is presented and each component is discussed in detail. Specifications of each component are provided based on the datasheet.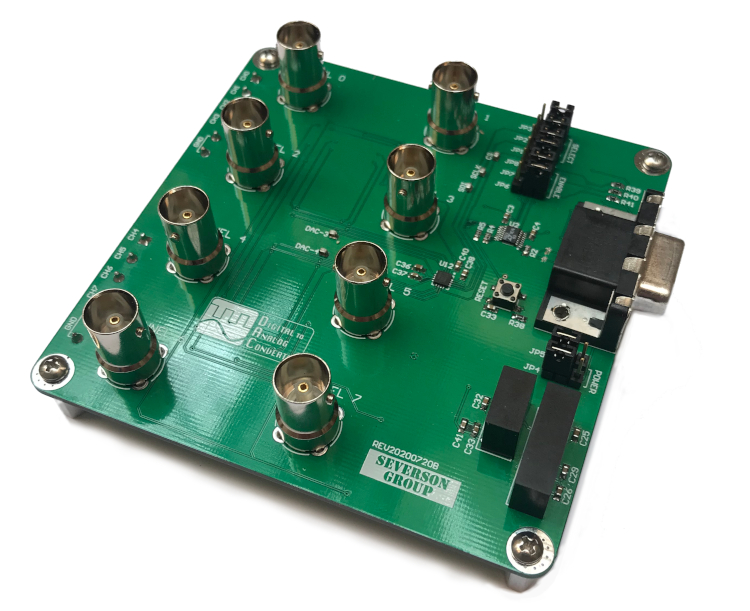 Relevant Hardware Versions¶
AMDC REV D with DAC Board REV B
Design Requirements and Considerations¶
The AMDC DAC expansion board was designed with the following requirements:
Work with both the IsoSPI and Power Stack Inverter ports through a single DB-15 connector

Minimal I/O data lines as possible (simplified SPI interface)

All digital and power signals on the board are isolated from the AMDC

Operate the DAC fast enough such that all channels have a throughput of at least 20ksps

Slew rate greater than 1V/us

12-bit samples

Output Voltage: +/- 10V on all channels
Block Diagram / External Connections¶
PCB Layout¶
Minimal components were placed on the top layer in order to maximize the space between the BNC connectors as well as protect components from physical damage. All analog signals are routed on the bottom layer within the area containing the BNC connectors to shield them from noise generated by the SPI lines. All signal traces have 6mil thickness. Power supply and ground signals have 10mil thickness.